October 27th, 2016
The annual Apple keynote event can be a dull, or a strident affair, as is the case with many hyped-up launches. Apple's brand image also bolsters expectations; with skeptics often criticizing many new features that are on display.
However, we can only criticize so much. Regardless of utility or aesthetics, the unveiling of new tech holds some promise – it's an exciting time for technological innovation!
Read on for the NextJuggernaut feature of Apple's keynote event, now drawn to a fantastical close in company headquarters, California. This event is significant, after Microsoft's own salvo, where it unveiled the stellar Surface Studio – one of the most organic designs to come out of the company's environs – for all things digitally creative.
The New MacBook Pro: Finishing Touches
Apple has often been a pioneer in touch-based tech, and the curtain is drawn for the new MacBook Pro. Three models were announced at this event: One 15-inch screen variant, and two 13-inch variants.
An interesting thing to note about ONE of those 13 inchers is that it's going to replace the MacBook Air – that's the one without the Touch Bar.
And that brings us to the Pro's most inventive and pleasing features, the Touch Bar. A sleek addition right above the keyboard, this is the customization hub for the laptop. This replaces the function keys that have long since occupied their throne, and can be used for all standard functions like adjusting volume and brightness. Preempting messages and emojis is also an add-on for this Touch Bar.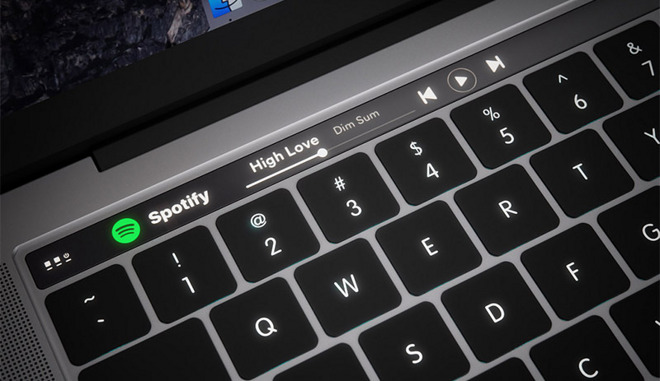 The laptops integrate a ForceTouch trackpad and Touch ID – where you'll be able to make payments (via Apple Pay) on various websites with the help of your fingerprints – serving the dual function of a sign-in mechanism.
After the headphone jack controversy that plagued the iPhone 7, Apple wised up and integrated a 3.5mm jack for the MacBook Pro, which is also slimmer – 15.5mm (15-inch variant) and 14.9mm (13-inch variant).
Much of the event centered around the varying uses of the Touch Bar, as it represents near Omni-purpose functionality, from sending messages to editing images.
Simplicity of design and a smooth, clinical finishing have always been Apple hallmarks – which they held up with the latest release.
Feedback has been largely positive regarding the features and the sheer power that these laptops pack.
The criticism is also the same – the pricing can be enough to simulate a small stroke in some tech and moolah-hungry folk's hearts. The company has already opened up the portal for orders, which will begin shipping in the UK within 3 weeks. Prices start at £1,449 and go as high as a whooping £2,349.
You can also say goodbye to regular USB ports – all of them have been replaced by USB-C thunderbolt ports. Data transfer speeds go up to a dizzying 40 Gbps with this addition. Of course, upgrading with the necessary accessories is the buyer's job, and Apple does not apologize for taking giant steps.
Apple also does not apologize for the pricing, as the laptops intended targets are people looking for some high-end, potent stuff packed in a pretty, pretty case. The MacBook pro is exactly that – an iron fist in a velvet glove.
Here's a look at its specs:
The 13-inch MacBook Pro (MacBook Air replacement) : 2.0 GHz dual-core Intel Core i5 processor with Turbo Boost speeds up to 3.1 GHz, 8GB of memory and 256GB of flash storage.
The 13-inch MacBook Pro: Includes Touch Bar and Touch ID, a 2.9 GHz dual-core Intel Core i5 processor with Turbo Boost speeds up to 3.3 GHz, 8GB of memory and 256GB of flash storage.
The 15-inch MacBook Pro: Includes the Touch Bar and Touch ID, a 2.6 GHz quad-core Intel Core i7 processor with Turbo Boost speeds up to 3.5 GHz, 16GB of memory and 256GB of flash storage.
Those unfamiliar with all these specs, it simply means a high power configuration that can handle its share of extensive graphics oriented stuff – gaming, video editing, 3-D rendering are all a breeze. Graphics are reportedly 2 times faster than before, and all models have SSD's (Solid State Drives) which facilitate negligible boot-time.
Apple also forays into the online TV world with Apple TV, an app serving as the one-stop shop for all your TV-watching needs.
And there you have it – a concise review of the Keynote Event. Many still debate as to the Touch Bar's functionality, indicating that user's will need to get acquainted with it. Failing that, it may just remain a nice gimmick and nothing more – but, like with all such releases, only time can tell.
Subscribe to stay ahead with the latest updates and entrepreneurial insights!
Subscribe to our newsletter
Get access to the latest industry & product insights.